PRP ANNOUNCES ACQUISITION OF A 1.4 MILLION SF TECHTRONIC DISTRIBUTION CENTER LOCATED IN THE GREENVILLE-SPARTANBURG, SOUTH CAROLINA MARKET
This is the first closing of a larger national portfolio transaction between PRP and Developer CRG that will include over 4.5 million square feet of class A logistics properties valued in excess of $400 Million.
WASHINGTON, DC – November 17, 2021 – PRP, one of the leading investment management firms focused on credit net lease investments, announced today that it has closed the acquisition of a 1.4MM square foot Class A distribution center fully leased to an affiliate of Techtronic Industries Co. Ltd. ("Techtronic") for $119.5MM. The Property is a brand-new build-to-suit for Techtronic, which was fully completed at the beginning of November, 2021.
Joseph Neckles, PRP's Managing Director and Head of Net Lease Investments stated, "This acquisition meets all of PRP's most important investment criteria including new construction, a long-term net lease, a high investment grade credit quality tenant and location within a strong US logistics market. We are thrilled to have worked with CRG on this first closing and look forward to closing the remainder of our broader five-property national portfolio transaction in the coming weeks."
Techtronic is a leading worldwide consumer products company included in the Hang Seng Index of top 50 largest public companies in Hong Kong. Techtronic maintains a powerful brand portfolio including MILWAUKEE, RIYOBI and HOOVER. These brands are leaders in the cordless power tools, accessories, floorcare and the do-it yourself (DIY) segments.
The Property is a brand-new, state of the art distribution center built to modern Class A property specifications including cross-dock loading configuration, 36-foot clear heights, 246 dock doors, a 185-foot truck court, and 555 spaces of excess trailer parking.
Greenville-Spartanburg is widely recognized as a critical market within the broader US supply chain. The property's location in Greer, South Carlina is strategically proximate to Greenville-Spartanburg International Airport and Inland Port Greer, which offers direct rail connection to the Port of Charleston. In addition to Techtronic, major nearby corporate occupiers include the largest BMW manufacturing facility in the world as well as Walmart's recently announced $450 Million high-tech grocery distribution center.
About PRP
PRP is a real estate investment management company with a focus on mission-critical logistics and corporate headquarters facilities leased to investment-grade companies on a long-term basis, investments in Opportunity Zones, investments in existing data centers and land zoned for data center use, value-add multifamily apartments and value-add office. Founded in 2005, PRP executes these strategies and asset manages a national portfolio of assets on behalf of its institutional investors, family offices and financial institutions. PRP has proven expertise in selecting and managing attractive risk adjusted real estate investments located in major markets throughout the United States. Since its formation, the company has acquired, developed or invested in 46 assets with a value in excess of $5 Billion in all property sectors. PRP is privately held and is headquartered in Washington, DC. PRP is a creative buyer and seller of real estate and considers a variety of equity and debt investment structures. For more information on PRP, please visit www.prprei.com.
About CRG

CRG is a privately held real estate development firm that has developed more than 9,000 acres of land and delivered over 200 million square feet of commercial, industrial, institutional and multifamily assets exceeding $12 billion in value. CRG leverages a powerful North American platform with local market expertise and offices in Atlanta, Chicago, Columbus, Southern California, St. Louis and Philadelphia. CRG's philosophy of developing for the future and anticipating the enhanced needs of next generation users led to the creation of its industrial brand, The Cubes, and its multifamily brand, Chapter. For more information, visit CRG's website at realcrg.com.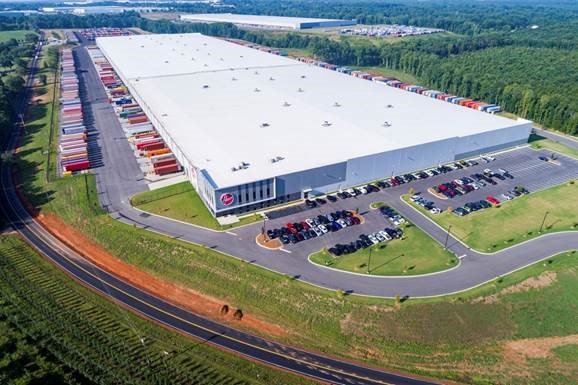 CONTACT: Colleen Ramsey
PRP, LLC
202-741-8400